As part of the trip, I will be trying to get a tattoo in each city that I stay in for a week or more. With how many stops we'll have, I'll have quite the collection by the time our trip is done. The plan for what tattoos I'm going to get is very open. Basically I'll talk to each artist and give them as much leeway and freedom as they'd like with the basic premise that the tattoo isn't much larger than a dollar bill folded in half. With that said, that's not an absolute necessity to adhere to that… it will just hopefully keep me from being broke most of the trip.
<3
-Matt
PS~ Don't forget to tip your tattoo artist.
================================================================
Pre-Trip Tattoo! (February 19th, 2013)
Royalty Tattoos Parlour
Address: 103 N Saginaw St, Durand, MI 48429
Phone: (989) 288-2190
Artist: Chris Hornus
Cost: around $100 or $120 (honestly can't remember the exact number)
Dan and I have been meaning to finish the major pieces on our matching tattoos. Dan proposed getting a Michigan tattoo (which we've been meaning to do since we moved back to MI), and I was sold. Chris Hornus of Royalty Tattoo in Durand, MI has done everything on our matching arms. We gave Chris the rough outline for what we wanted (Lower Peninsula of MI, skull and cross bones over Detroit, and something like a bow and arrow over Lansing), and he ended up killing it. If you are in Michigan and you want a tattoo, you definitely should book some time with Chris. While we were there we told Chris about the trip and I told him about my plan to get tattoos in each city along the way. He's the one who came up with the great idea of limiting either the size of the pieces (like a dollar bill folded in half) or asking for something within a particular price range. Thanks Chris!

================================================================
First Trip Tattoo! (March 27th, 2013)
Charmed Life Tattoo
Address: 754 N. Limestone, Lexington, KY
Phone: (859) 266-4187
Artist: Scott Updike
Cost: $140
After a bit of Googling and looking at Tattoo shop webpages and Facebook pages in Lexington, I settled on going to Charmed Life Tattoo. From their site, http://charmedlifeart.com/ , I saw a couple of really great traditional pieces with a modern take and I was interested. If you are in Lexington Kentucky and you want to get a tattoo at Charmed Life Tattoo, please note that the address on their website is out of date. They are now at 754 N. Limestone. The number to contact them is still the same, (859) 266-4187. I scheduled some time with Scott Updike for the next day and just let him know that I'm down to get anything he'd like to do or something he has been working on. When I showed up, he had two tight outlines. One of a rad devilish creature clasping a skull, and the other of a snake (on a knife I believe?). I dug the snake tattoo, but I had just recently gotten a snake tattoo on my forearm from the bearded beast Sean Kerwin.

All of the dudes at the shop were cool. If you guys are reading this, thanks for the tips on other shops to check out. They also had some good tunes playing (I specifically recall hearing some Alabama Shakes). Cheers, and thanks for the great tatt Scott!
================================================================
Tattoo Numero Dos! (April 2nd, 2013)
Old Glory Tattoos
Address: 310 Blount St #220, Tallahassee, FL 32301
Phone: (850) 577-1140
Artist: Brandon Bender
Cost: $80
Upon arrival to Tallahassee I asked our friends Katie and Mat if they knew of any local reputable tattoo shops. Katie queried some of their friends to find out a couple good spots and the resulting list was:
Monument Tattoos
Old Glory
Euphoria
So, off to the Google machine I went. After some time looking at pictures, I came away really digging what the guys at Old Glory were doing. They have some rad traditional tattoos, but with some new school techniques mixed in. Basically, what I love. I called to get an appointment, but they don't like to do appointments by phone (this may be different for folks they have a relationship with) and asked that I come in to chat about what I want to do. I get the reasoning for this as some people have unreasonable expectations (or they're flakes). I wound up biking there later in the day with Jake and Dan in tow to see if I could setup some time for new ink. Lo and behold, when I arrived Mr. Bender was available to tattoo right away. Righteous! I outlined the trip and what I'm doing with tattoos and he went off to come up with an outline. As you can see below, he came up with a tight tattoo. If you can't handle pain very well, you should consider getting a tattoo from Brandon as he had a really light touch the whole time. The kid getting his buns tattooed was really awkward. Homeboy was contemplating the exact placement of the loltat on his butt for a solid 5 minutes and then asked the artist, Ben, "Is that a good spot? I can put it somewhere else if not. Whatever is less gay for you." LOLs ensued. After my tattoo was finished I scored a shirt from the shop. I really wanted one of the Rat Fink tees, but unfortunately they didn't have it in fatboy sizes so I went with one of the black tees. The last two photos are from a bar called Leon's Pub, which is pretty rad. If you're in Tallahassee give it a look along with Old Glory.

================================================================
Third! (April 12th, 2013)
Tattoo A Go Go
Address: 4421 Magazine St, New Orleans, LA
Phone: (504)899-8229
Artist: Kenny Cox
Cost: $250 (I'm fuzzy on this number, I believe it was $200 or more)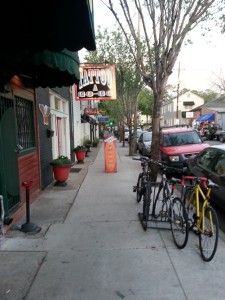 I wound up going to Tattoo A Go Go because my friend Lindsay would go there for a new tattoo whenever she was in New Orleans. Unfortunately for her the artist she went to, Larry Bone, doesn't work there anymore (he moved back home). I called and got an appointment for the same day. Kenny had his earlier appointment reschedule on him so I wound up getting my tattoo just after finishing lunch. He had sheets of flash he had made and a number of sketches. I was drawn to one of a pyramid with an eye in some purple clouds as well as the tattoo I wound up getting. I stuck with the trippy/deconstructed 'Indian Princess' as I thought she would pair really well with some work I had gotten from my friend Gio (a more straightforward 'Indian Princess'). Kenny was really stoked to do the tattoo that I ended up choosing. He had just recently sketched it up and was going to paint it shortly. Instead of painting the piece he got to tattoo it on me. After spending several hours with Kenny and the guys in the shop I have to say that they're some good dudes and a great shop to get a tattoo at. They also had the coolest tattoo shop bathroom I've seen so far (you'll see the pictures below). While relating my tattoo journey we realized that Kenny knew Brandon and Ben of Old Glory Tattoos (from my cloudy memory I seem to recall that Kenny had guested at Old Glory), the joint that I had just gotten a tattoo from. Small world (I guess NOLA and Tallahassee aren't that far apart). The tattoo was a real bitch while healing up (admittedly I think most of that was my fault, I didn't give it as much loving care as I normally give to new tattoos with fairly regular lotion application and shit), but it's almost done healing as of writing this. Thanks for the killer tattoo Kenny! Without further ado, the pictures:
After the tattoo I grabbed some post ink dranks while waiting for a cab (which took about 2 hours to show… eat a dick French Quarter Festival). While there I got to take in the 'great' singing of another bar patron belting out his own version of 'Another Brick In The Wall'. Dude's voice was hoarse from apparently doing this all day but he couldn't quit that song. Eventually the bartenders shut him up. That was a nice precursor for the rest of the week in New Orleans.
-Cheers.
================================================================
Fourth! (April 23rd, 2013)
Obscurities Tattoo and Piercing
Address: 4008 Cedar Springs Rd, Dallas, TX 75219
Phone: 214-559-3706
Artist: Adam Stewart
Cost: $200
One thing I've been thinking about is removing the cost of the tattoos. I like having the numbers up because I frankly never remember how much I spent on tattoos, so it's a neat metric to follow. The major downside to listing how much a tattoo costs is that not all tattoos are created equal. Prices can go up depending on the location of a shop, the demand for an artists time, and many other variables (like is the person getting the tattoo a real fucking dickhead?). While I was getting this tattoo we talked about how people will call in and ask Adam something like, "How much for a sleeve, or a half sleeve?" This kind of question is indicative of the person asking it (likely someone that doesn't have tattoos or does not have many tattoos), because they are ignoring many factors that control the cost of the art and the artists time. Adam had a great proposition though, he will name a flat rate but he gets to draw whatever he wants. Whether that's something he would actually do (you'd definitely need to collect a deposit so that if someone flakes out you would still get some money for the time spent designing a sleeve) is another matter.
Conjecture aside, Obscurities was a good shop to get a tattoo at. I was recommended to them from the guys at Charmed Life Tattoos (in particular to work with Josh Robinson, but he was out until Thursday and I didn't know what my availability would be like on Thursday). After talking with Adam and looking at some of his lines I went with getting a tattoo based off an original Rollo (Mike "Rollo" Banks) acetate stencil he has. Unfortunately I didn't get more pictures of the shop and the process because my phone died, but see below for the great work Adam did and a couple shots of the shop. Thanks for the rad tattoo Adam!
================================================================
Fifth! (May 3rd, 2013)
All Is One Tattoo
Address: 139 Harvard Drive SE, Albuquerque, NM 87106
Phone: 505.255.4461
Artist: Randy Blaze
Cost: $150
I can't lie, I did not want to get a tattoo in New Mexico. I was feeling burnt out from getting the last tattoo as it made walking around shitty for my ankle (my ankle would swell up due to the scabbing from the tattoo not allowing the skin to move as I walked). The last tattoo not healing up as easily was on me though. Adam had outlined a great way to keep your new tattoos from scabbing up which I'll outline here:
1. Keep the wrap on your tattoo for a couple of hours.
2. Take the initial wrap off, clean your tattoo with antibacterial soap and let it air out for a couple of hours.
3. Before going to bed, put some Aquafor (or post-tattoo ointment that the shop might give you) on the tattoo and then wrap your tattoo in clean plastic wrap and add some tape to keep it in place.
4. In the morning, wash your tattoo again, and keep it exposed so it can dry out until you need to leave the house (again, a couple of hours if possible).
5. Before leaving the house, or after hours of letting your skin/tattoo get some air apply Aquafor/ointment to the tattoo and then wrap again with new/clean plast wrap and tape into place.
6. When you get home from work (or after many hours), clean the tattoo again with soap and air out again.
7. Before going to bed repeat step 3.
8. Rinse and repeat for 2 to 3 days.
By the end of our stay in New Mexico I was finally feeling up for a new tattoo so I asked my friend John for some suggestions as well as doing some research online. John had mentioned All Is One Tattoo (and one other shop) and I liked what I had seen from their artists so I called them and outlined what I was doing. I took a cab into town ($40 one way) and met Randy. After explaining what was up to him he chose a book of flash to check out (stuff that's in the style that he likes to do) and I chose the demon bulldog. I loved the English Bulldog I had with my ex-girlfriend (I plan on getting an English Bulldog or a Frenchie when the trip is over) and was really stoked for the tattoo. Only issue? The flash made the dog's face look really 'nut-sacky'. To be fair, an English Bulldog's skin hangs loose like a nutsack, but I didn't really want a testicle dog on my shin. Randy changed up the drawing a bit to de-sack the dog and off we went. Randy really did an amazing job and I'm still blown away by how great the tattoo came out. Everyone in the shop does great work (I looked through everyone's books at the shop while waiting as well as scoping out what they were putting on clients throughout the day) and I would definitely recommend stopping in and getting a tattoo from Randy or anyone working at All Is One in Albuquerque. If I pass through again I'll definitely stop by for another tattoo.
One big difference between this tattoo and the last is that I took Adam's (and Randy outlined the same thing while I was there) advice and tried the method described above. After following that regimen my healing process was far easier. If you get a tattoo, I can't stress enough how great the steps above are for the healing process. Last note, for you first time tattoo-getters, Randy has a very light hand. Getting the outline was virtually painless (for a tattoo).
================================================================
Sixxxth! (May 15th, 2013)
Immaculate Tattoo
Address: 1454 W Main St #1, Mesa, AZ 85201
Phone: (480) 668-4940
Artist: Luis Campos
Cost: $200
While getting tattooed in Albuquerque, Randy recommended that I check out Aaron Coleman at Immaculate Tattoo in Phoenix (Mesa is just outside of 'Phoenix-proper'). The tattoo I got in Albuquerque was actually based off of flash from Aaron Coleman. My friend Brandon was kind enough to let me use his car to drive to the shop and off I went. I found that Aaron was booked up for the day but Luis had availability. When we were deciding on what to do and where to put it the other guys at the shop suggested giving my leg a break (at the time my leg looked pretty brutalized from constant tattooing without much of a break for getting fully healed between each session and I had a mild case of folliculitis) and frankly I was ready to get a tattoo anywhere other than my leg. We found a good spot on my forearm and decided on doing a panther head. Luis was trying out a new machine from Aaron for my tattoo and I have to say, it felt fairly brutal. The tattoo came out really well, but I was happy when I got out of the chair.
Luis has since moved back to Asheville, North Carolina so if you're ever in the area and looking for a rad tattoo, look him up. Aaron and the rest of the crew are still at Immaculate Tattoo in Mesa and slaying some killer tatts, so if you're in or around Phoenix go check them out.
At the end of the set are some photos of folks I met after dropping Brandon's car off at his job and grabbing a drink before catching a cab home (I would up catching a ride back to Glu's apartment with them later; apparently being friendly is cost-effective!).
================================================================
The Tattoo That Never Was
Port City Tattoos
Address: 4290 outer traffic circle, Long Beach, CA 90804
Phone: (562) 494-6800
Artist: Miguel "UZI" Montgomery
The guys at Immaculate Tattoo in Mesa, AZ referred me to Uzi when they heard I would be in LA. After checking out his Instagram feed I was really stoked to get a piece by him. After getting into Dockweiler Beach (which is just west of LAX, right on the ocean) I started looking into the logistics of getting to the shop and unfortunately the cost of a cab was untenable (around $170-$200 roundtrip). If you're in the LA area and looking to get a tattoo Uzi makes a killer tattoo. Next time I'm in LA/LBC I'm definitely going to make an appointment with him.
Here's a sample of his work from Uzi's instagram feed:
================================================================
The Tattoo That I Never Even Considered
Aptos, CA
This is the first time I broke my idea of getting a tattoo wherever I stayed for a week or more. We rolled into Aptos (which is just south of Santa Cruz, you can catch a city bus into the city and it takes around 35 or 40 minutes) and I didn't have any references and I didn't have any will to get a tattoo here. I decided to just wait until we got to San Francisco for my next tattoo (rationalization: getting a tattoo in each state where I stayed a week or more).
================================================================
Se7enth! (June 19th, 2013)
Idle Hand Tattoo
Address: 575 Haight St, San Francisco, CA 94117
Phone: (415) 552-4353
Artist: Austin Maples
Cost: $200
To be frank, I can't recall how I wound up deciding on Idle Hand Tattoo for getting a tattoo. I think perhaps my friend Jess had suggested that along with a couple of other shops (and I think I checked them all out using the Googletron's and found I dug the work at Idle Hand the most). Either way, I'm happy that I did walk through the doors at Idle Hand Tattoo because I would up with a rad tattoo. I didn't make an appointment and just walked in. Fortunately Austin had time available. I gave him the low-down on the trip and what I'm doing tattoo-wise letting him know that he had a free hand to design whatever he liked. Apparently folks in SF don't go for many tattoos with crosses and Austin was stoked to do a cross tattoo. Austin also gave me a reference to see Eli Falconette in Portland (Austin had done a page of flash for a book that Eli put out).
Austin is a young guy, but don't let that put you out. I've been watching his Instagram since getting tattooed by him and he has really solid, iconic designs. If you want to get a bold tattoo from an up-and-comer, you gotta go to Austin if you're in SF.
================================================================
The Tattoo That Didn't Happen For Good Reason
Ukiah, CA
We wound up breaking down in Ukiah and started immediately hemorrhaging money (hotel, towing costs, mechanic, food, etc). I briefly thought about finding a tattoo shop but we had no idea how long we'd be there, or what our total repair bills would be. Basically financial prudence led me to not looking for a tattoo shop in that small touristy/wine-country town of Ukiah.
================================================================
8! (June 19th, 2013)
Blacklist Gallery Tattoo
Address: 2307 NE Broadway St, Portland, OR 97232
Phone: (503) 796-0086
Artist: Eli Falconette
Cost: $250
I was initially looking at getting a tattoo at Scapegoat Tattoo, but instead wound up at Blacklist. This was the first time that I was recommended to work with an artist by a tattoo artist and the person had time available for a walk-in. We initially struggled a bit with what to go for. Eli has a ton of great books of flash and we were leaning towards doing a wolf head. He then pointed out two pieces that he had finished painting that morning and I was struck by the Butterfly/Skull piece that he had made. I was immediately on-board with the butterskull tattoo.
Eli is a really solid dude and we wound up chatting about New Orleans, Southern California, and life in general (quick secret that's not so secret that Eli reiterated for me: don't go to New Orleans for Mardi Gras. The right time to be in NOLA is for Halloween, that or boil season). He also works at an extremely fast pace without compromising the quality of his work. After finishing all of the black work and taking a break we got back to work on the color. After what felt like 15 minutes, I was astounded when Eli said we were all done (and pleased, it's nice to not get tattooed for 5 hours straight). I can't say enough about how pleased I am with this tattoo. To all my friends in Portland that get tattoos, go see Eli.