Shit is a total pain in the ass. I painted the sides/rails while Matt did the top. Fortunately for us it has been in the mid to high 70s while painting, really happy it's not hotter and that it's not cooler. I'm standing on our little home made ladder to do the sides, we did finally buy a ladder but it's a huge pain in the ass to move that thing around for the short stretches on the sides.
Matt had a lot of fun dealing with the shit on top, fortunately 3 coats has gotten it pretty well. He says it's nice and even up there.. I'm not sure on the rails, I might do some more touch ups with a small foam brush. The next picture is from the 3rd coat going up. We managed to get in a coat before work which was nice, so we can come home and check it after it has dried.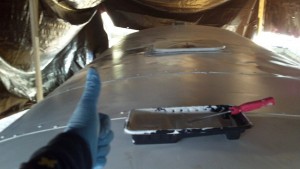 I'm hoping to head home today and get the sides cleaned up of rust and power wash / scrub it so it can dry enough to rust treat. Once that's done we'll start paint on the sides. Hoping to get all of our coats on before next week! We're supposed to get rain and I'm not sure I trust this canopy to stand up to anything beyond a sprinkle.